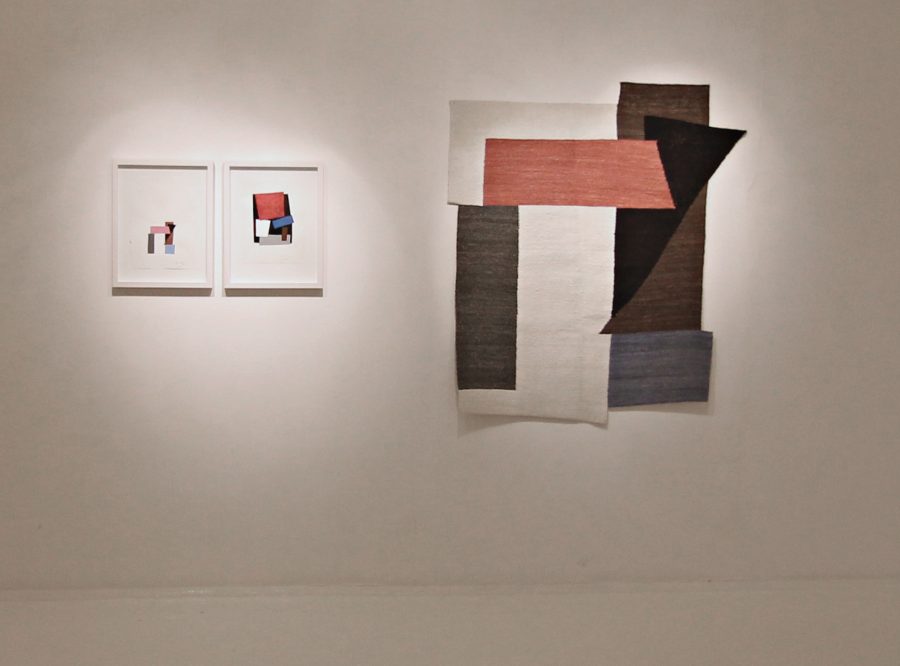 The latest productions of the artist Mike Berg meet the art lovers of Ankara with the exhibition titled "What is the Meaningless of This?". American artist's abstract compositions mesh with gouache drawings, metal sculptures and hand-wowed rugs (kilims.)
The artist depicts the sense of obscurity that his work induces at the viewer through an abstract geometry at the "What Is the Meaningless of This?" exhibition. While revealing the tangible reality of design, rhythm, color and surface, he draws the attention to ambiguous lines of his works that are open to interpretation. The quote from Philip Roth novel, "Eyes that drew you in and in that told you nothing yet told you nothing so eloquently." expresses the artistic attitude of the artist.
Berg's reinterpretation of geometry with different mediums is allowing the lines to gain layers and bring the architectural forms into forth, sometimes a brush stroke on paper becomes a metal sculpture and reveals the artist's gestural abstraction as his artistic attitude. Producing in limited series, Berg maintains his minimalistic line as he creates his works from different materials and techniques, and he gives more importance to the process rather than the finished state of the work. Principally defining two contrast notions through abstract forms and geometry, the artist brings together the east and the west, the old and the new, art history and modern art with his delicate touches.
MELİS GOLAR : You titled the exhibition as "What is the Meaningless of This?". You are fundamentally working on abstract art. This question frequently raised by the viewers essentially about abstractions. Why do you ask it back?
MIKE BERG : It's really a rhetorical question and, of course, it's not asking what the meaning of something might be, the meaninglessness of something is infinite. If it's not dismissed as totally flip (not serious), it might provoke a viewer to ask him or herself what meaning it might have.
M.G. : In one of your interview you mention your inspirational artist list including Jackson Pollock and Willem De Kooning. The common feature of their works is that they work on gestural abstraction. I see a similar touch in your metal sculptures made as if they were drawn on a paper like a stain. What would you say about this view?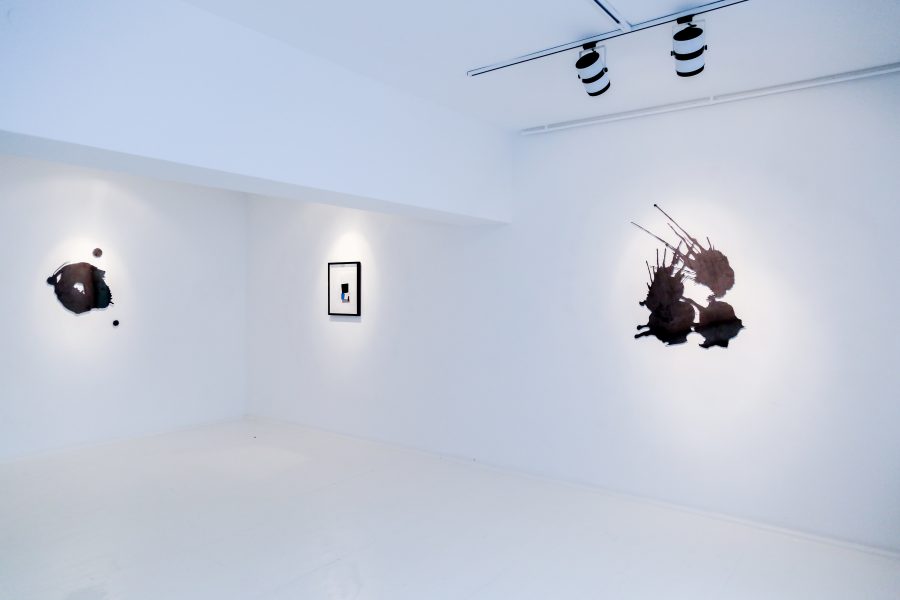 M.B. : Yes, one branch of my work is gestural and Pollock's mature, but not final work, is work that I admire. De Kooning is also important to me as are many other abstract gestural artists, Brice Marden being another one. My metal works do begin as ink drawings, but the shift in scale and the translation into a different medium gives the work a different dimension.
M.G. : In one of your interview you indicate that rather than reaching the end product you focus on the process. So, I conclude this approach as rather than what is expressed, how it is expressed, is more important to you. On the other hand your forms look very sharp, precise and arranged. Process is something uncontrolled, experimental and vague. How these two concept work together in your art pieces?
M.B. : All my work begins with a concept of how to proceed. Sometimes it's working with chance, sometimes it's applying a set of rules or procedure to a drawing or a sculpture. The point of it is that by following the set of rules of procedure, I will produce a work where I don't know what the final piece will look like. This way of working allows for a piece that I'm making to be a surprise to me. A work can be precise and based in chance process at the same time. It's determined by the nature of the process that's employed.
M.G. : Could you describe your production process especially on your drawings?
M.B. : My production process for my drawings varies tremendously. Lately I've been working on a series of gouache paintings that is based on the arrangement of simple geometric shapes that generally stack up to represent a rectangle. Sometimes the color determination is selected by chance. But whether the selection is by chance or not, the range of colors and tones are determined in advance for compositional reasons.
M.G. : In a sense, your drawings become three dimensional forms as we see them on the hand-woven rugs (kilim), metal sculptures even in jewelry designs. Could we consider those drawings as sketches for the additional dimension?
M.B. : That's a very interesting question and that you intuit three dimensionally in two dimensional drawings makes me happy. Something that I've been working on for awhile now is how to make 3 dimensional sculptures from the drawings. To see the flat drawing then to try to visualize the shapes as having depth, to try to understand how shapes would look on the back side or as the piece is rotated in space is an interesting challenge.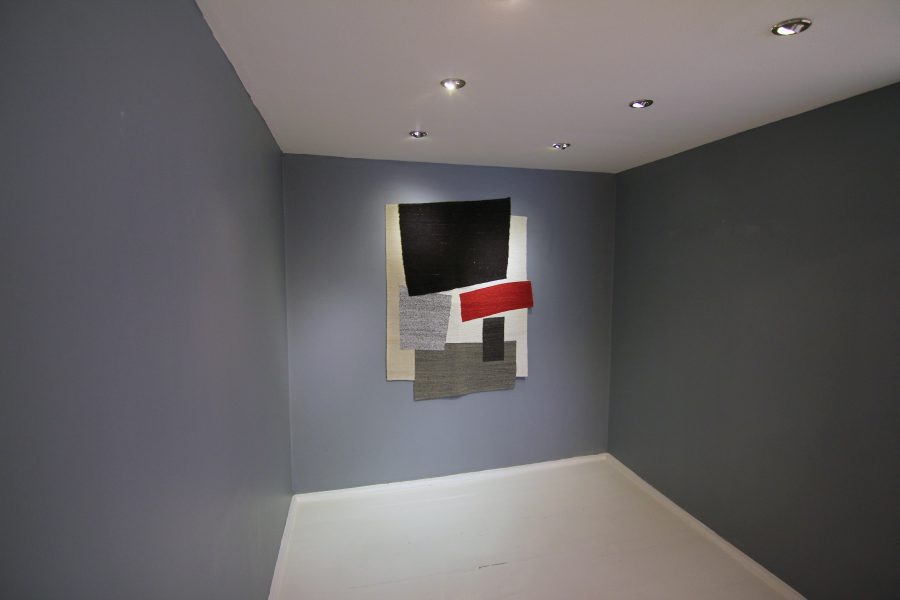 M.G. : Randomness, action and repetition appear to be the key elements in your works. What would you say for each? How would you describe them?
M.B. : As I've mentioned in previous questions, the use of chance is a way to animate my work for myself. It allows for compositions to emerge that I don't foresee in advance. Rather than say repetition, I would say that my work is about variation. If I work with rules of chance in composing a work, then in order not to make the process meaningless, I must follow the set of rules to conclusion. After that I will look at the piece and think that it might make an interesting composition to alter the shapes, select different colors or to do something dramatically opposite from the work before.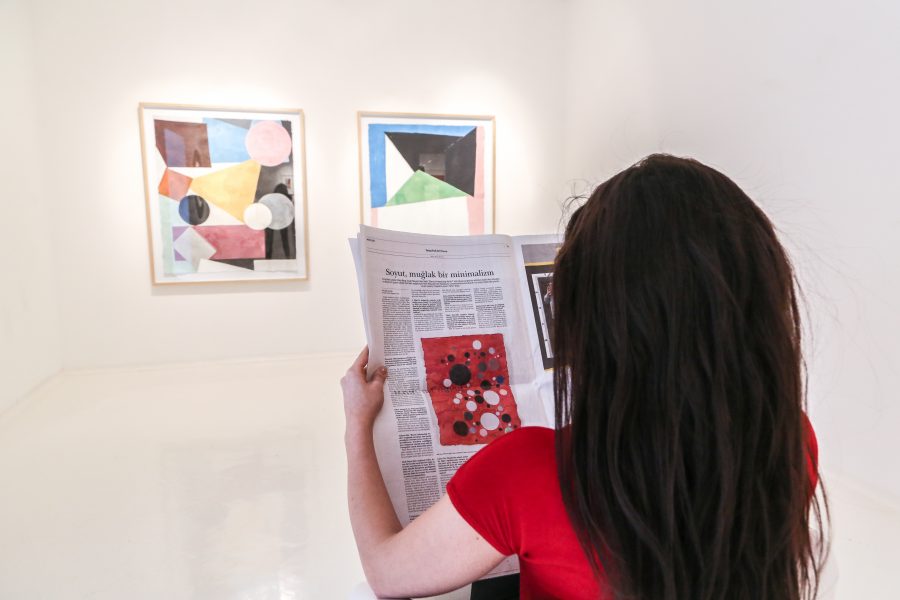 M.G. : Are there any developments both in Turkey or from around the world, that you feel as controversial as negative or one that you find as an improvement, as positive, in terms of politics of arts? Why do you think that these situations transpiring in these days? Where does Turkey stand in terms of your example?
M.B. : I really don't like to talk about my art in terms of meaning or relevance. I'm happy to discuss how I make what I do but not to claim meaning or significance. An irony in my life is that while I'm politically involved, I have never had a desire to make political art. Or maybe it would be more accurate to say that I've never found an approach that I felt comfortable with.
For more information; https://galerisiyahbeyaz.com/tr/gecmis/galeri-siyah-beyaz/2017-2018/bunun-anlamsizligi-nedir