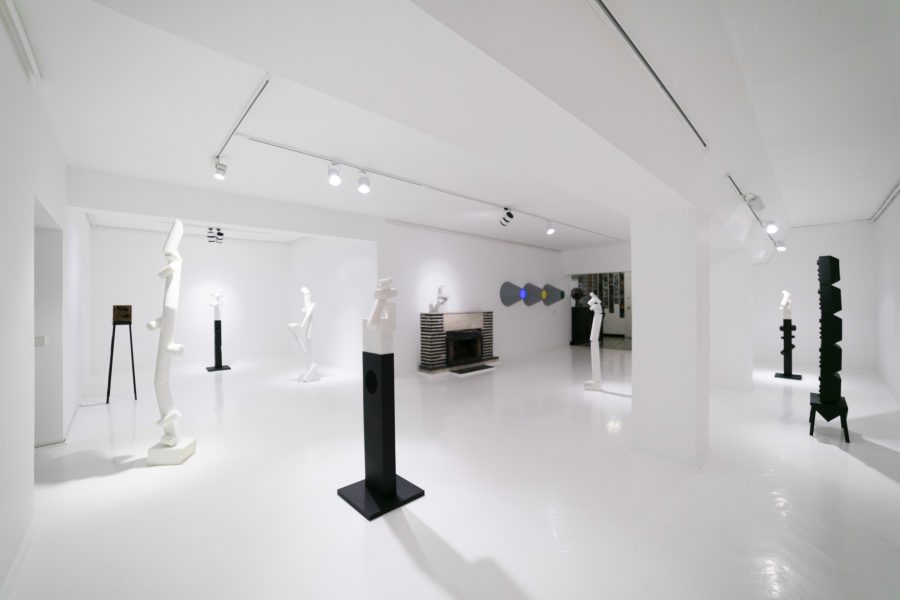 Siyah Beyaz Art Gallery is holding Bahadır Çolak's first solo exhibition 'Under the System' comprising his last four years of production. His sculptures predominantly made of marble and metal accompanied by led screens, texts and motion. The artist presents the formative side of industrialization on humanity, using the methods of reducing, multiplying, distorting and inserting in his sculptures. Through this way, he flips the traditional perceptions of sculpture by conjoining the composition and de-composition of these forms.
Bringing material-form relation together sometimes by means of creating geometric structures other times using media devices as an allegory, the artist points out the notions of poverty, control, system and industrialization. In this exhibition Çolak's works appear as solid, bold, clear and systematic masses, whereas he also accommodates works that participate the spectator along their own motions.
MELİS GOLAR : How did your relation to Ankara and Siyah Beyaz Art Gallery start ?
BAHADIR ÇOLAK : Ankara is the city where I have been for the first time a few years ago. I would say, I could not visit the city while I was there and didn't connect to it. A year ago, while I was visiting a friend for an arts organization's dinner, I met Siyah Beyaz Art Gallery's founders. We spent a great night with dense conversation on arts. It was a joyful night hearing fromTurkey's one of the first private arts institutions' owners about arts and artists. They were interested in my work so I shared my works with them in pleasure. Recently, the yourger generation director of the gallery, visited me at my studio and we had a chance to talk in more detail. Everyone knows about their trust oriented policy, which is the most desirable working method for me within an institution. In the end, one year passed by and I am opening my first solo exhibition that I wanted to realize all for long.
M.G. : In terms of material usage you predominantly employ marble and metal in your sculpture. Addition to the traditionally adopted marble, we also encounter various techniques coexisting in your work such as videos, neon lightnings. What can you tell about the basis of this material variety and virtual diversity emerging in your creations?
B.Ç. : I generally use traditional materials and reshape them in my practice according to the recent constraints. I believe these materials form a base to the sculpture and become a pioneer of a positive evolution of sculpture production with its various numbers of materials. Because sculpture production process requires an excessive amount of research and practice it allows you automatically to convene and use different types of materials during this process. Occasionally some random experiments may transform into a conscious project production.
Since my childhood I always had an intimate relation with technology and worked on electronics, mechanical systems for years. Almost till the end of my studentship, these two were my source of income. Creating sculptures out of traditional equipment, learning and discovering continuously about it, enabled me to put all these familiar, known and experienced materials into my practice. When I want to apply my thoughts on one piece, I never hesitate using the needs of the today's era, therefore different materials can quickly become an element of my work. While I was a student, I started forming cylindrical structures from plexiglass, bringing in new perspectives to the pieces by drawing patterns and lighting them with led. Yet it was not easy to bring different materials together to form a sculpture. So the now-how of my form knowledge became to be a long adventure. Today my accumulation of knowledge collated and exposed my works; that are created with the traditional and non-traditional materials.
M.G. : It is known that there is a condensed relation between the sculpture and its creator. Can you tell us briefly about your creative process, presentation of your works, in short, the time you spend with your pieces?
B.Ç. : With its ups and downs it is the most heart – warming process. Initially I focus on my intensions then a research process follows it. While testing on divergent materials; I complete the sculpture which has been in my hands for a while. This is a never ending process. Every time there are new things to be noticed.
Actually it is like a competition. Sometimes there is a deadline for a project to be finished which has to be exhibited on the right time, at other times the sculpture's dimensions might be large and you need to find solutions in restricted studio conditions. Briefly from beginning till the end within the project you grow in this course.
M.G. : Sometimes the geometrical, solid, bold and clear forms are emerging from your sculpture other times mechanical systems stand out which pulls the spectator interactively. Under which discourse does your first solo exhibition, 'Under the System' at Siyah Beyaz Art Gallery on 30.09.2016 – 01.11.2016, bring in these forms together?
B.Ç. : The sculptures I make are rigid, hinging on standing structures (monolit). On the contrary sometimes they appear as a fragile alike monoblocks which cause tension on the spectator. The notion of movement in my sculptures, both alter the dynamism in itself and brings the spectator in and communicate with them. In my practice this perspective turns into sculpture – system relationship. When we look back at history we see many obelisk examples. Their existence is kind of a power show. Today in many cities these structures appear as traces of power. In this exhibition, I aim for people in today's system to identify where they are standing at or create awareness for their sense of space. I am taking a critical look at people's coded mechanic behavior and their addiction towards this cycle.
M.G. : What do you think the contemporary confrontations of systems' creators, namely human beings, disappearance within or suffer from their own creations?
B.Ç. : If we look around us we can see the examples of it everywhere, I believe, there is no need to point one direction. When we stop and pull back, it is possible to see the circumstances we are under in this universe. There are so much so that, if I try to give tangible examples we could drown in a sea of intangibility.
M.G. : You have many outdoor sculptures both in Turkey and on abroad. We also know that your works have received prizes both at national and international spectrum. The conservation of public sculptures remains always controversial in Turkey. What do you think over this problem?
B.Ç. : Unfortunately Turkey is a little late at meeting with sculpture. The geography we live in has got a wealthy cultural heritage though if we take a real journey from past to present, we can see that sculptures have never been visible among public. Although Turkey started to get into a closer interaction with Western art in post-republican period and increased the amount of monuments, there were still not enough public examples encountered. It is easier to adapt the monuments in public which evoke historical memory. In short, ideological characteristics make sculptures more popular, yet having no artistic aspect. Original and contemporary art pieces exhibited in public space are not understood by the large section of the public in today's point of view. The reason is, I think art is not introduced to people in their childhood. This issue will always remain as a discussion. I hope one day, we will become a society that recognizes the importance of rising values and have a comprehension of conserving them.
M.G. : Can you share your future projects that you are excited about and could not realize yet?
B.Ç. : There are indeed many projects. Even though there are some utopic ones among these, I generally dwell upon the projects which I really can do. I hope I can realize them as I have realized my many projects. I do not know which one to mention, I feel like they could lose their mystery. I can give a small hint just for you. I have projects that I want spectators to manipulate large masses only by using their own motional energy. A control mechanism built between sculpture and human just as making revolutions from a small idea…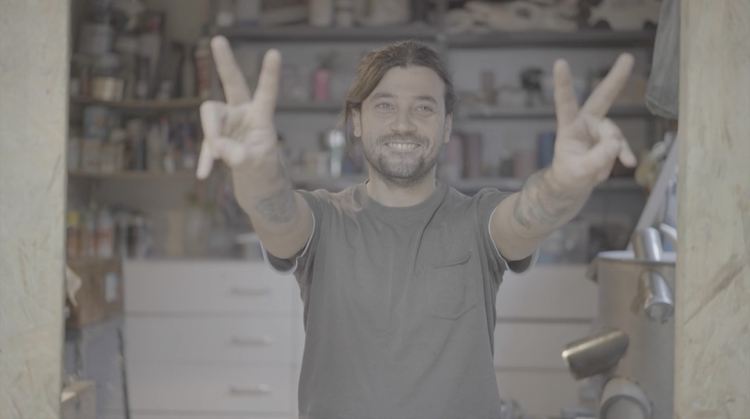 For more information https://galerisiyahbeyaz.com/tr/gecmis/galeri-siyah-beyaz/2016-2017/sistemin-altinda