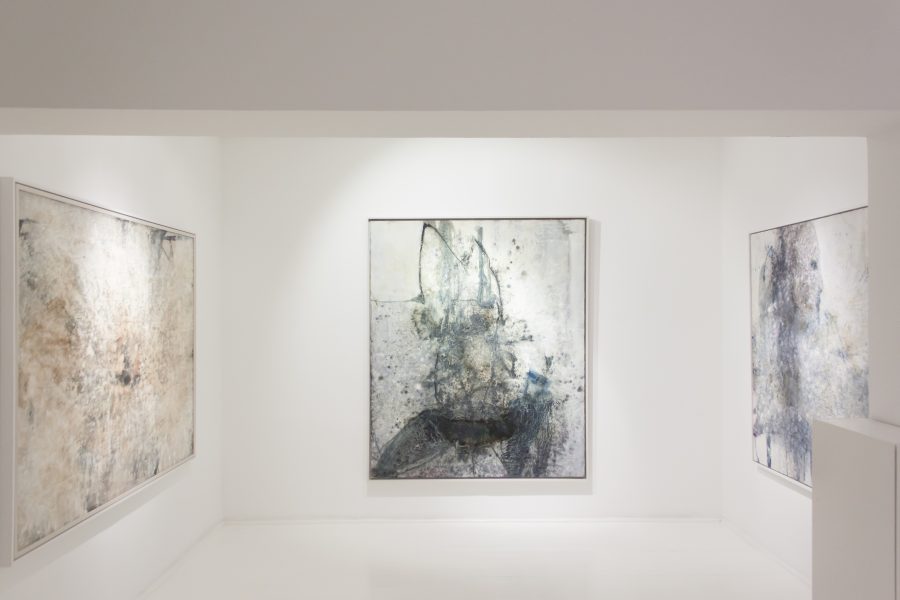 Ali Kotan greets us with an exhibition called 'Slathered Silence' in which he brings forward the country's silenced freedom and dreams in political, sociological fields and reflects this silence into his paintings through impulses emerged within him. Chaotic, expressionist and figurative forms previously seen in his series; give way this time to still and soft stains. Kotan who often carries the darkness of political conditions into his paintings this time uses 'white' to show the darkness from the other way around. In his works Kotan nourishes his art from the worrisome conditions in the society about authority, sexuality, power, populism, consumption and chronical drives. He shares his opposition to the transformation of human beings and their loss of resistance under systems and markets with the viewer.
MELİS GOLAR : You have been continuing your artistic production in Ankara for years. Pertaining to Ankara there sometimes has an aspiring side while it also has an alienating rouse; how are these dilemmas affecting you and your works?
ALİ KOTAN : Besides the completeness of personal acts in artistic productions, the contribution of the cities is indeed quite valuable in this process. One can go into better grasping of the richness of life where the organisms of living cities continuously regenerates and varies on the surface. Even though today Ankara is descending its visual and vital relations satisfactionary existence little by little, it still maintains its value; tries to adapt living, apart from colorful surfaces; offers the dry, dark and dull atmosphere within the warmth of past and productive development. The reflection, even though is ironically facing us as introverted, it still enables "us" to enrich ourselves and protects the process of exist and resist.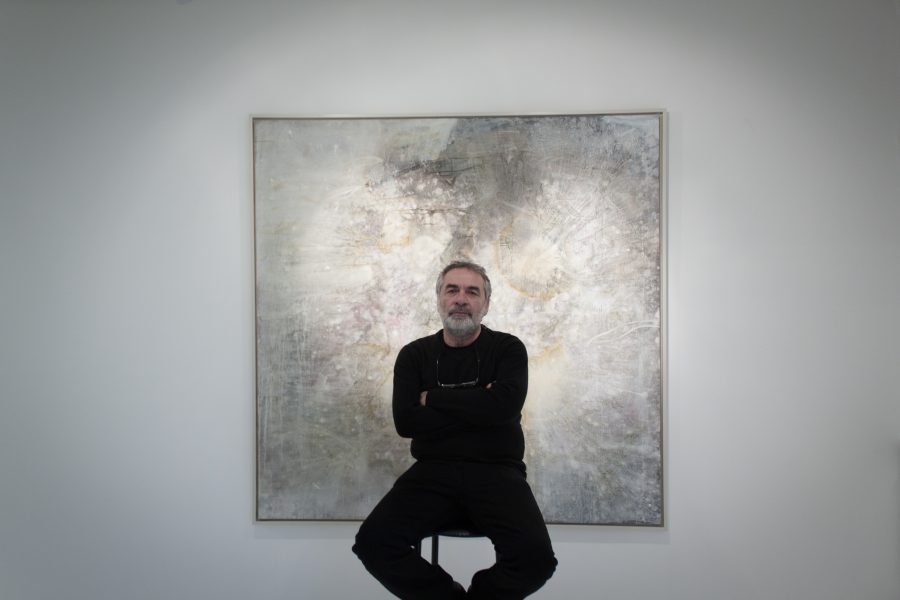 M.G. : So, do you follow Ankara's art market? How do you find young artists of today and their productions?
A.K.: In an environment where the important institutions withdrew from Ankara and where it partially abandoned from art integrated segment due to the political pressures, the designating zone weakens and that affects the producers. For many years I have been enjoying the '' FREEDOM'' of being distant from the daily market. Perhaps the brightest part for me is to see the youth chasing the new ways of freedom and questioning, showing effective demonstrations and defending it in an atmosphere where Ankara is surrounded by mist.
M.G. : 'Slathered Silence' title is very striking. You are such an artist who is sensitive to his environment, following social and political situations and harboring the apprehensions intrinsically emerging from these and transferring these on his canvas. Can you tell the extensions of this exhibition and the traces left on you from past to the present?
A.K. : Artists' insensitive and impassive stance have always given me pain. The question of 'what to do' has got only one answer: Fighting for freedom. The passive utterance of arts is a space for freedom. The darkness coming out from its hidden cave and finding a "life" in brightness is making my adventure meaningful. The past where it finds its place in silence and transform into a reality which keeps its non-stop scratchings, each day waiting for the light to come in life, has made my exhibition's name 'Slathered Silence'. When the invasion experiences and memories that I have folded layer by layer in years, it has become settler in the paintings and a slathering item while moving away from the 'white' league, talking with no hesitation but being aware of the fact that unsettling its environment.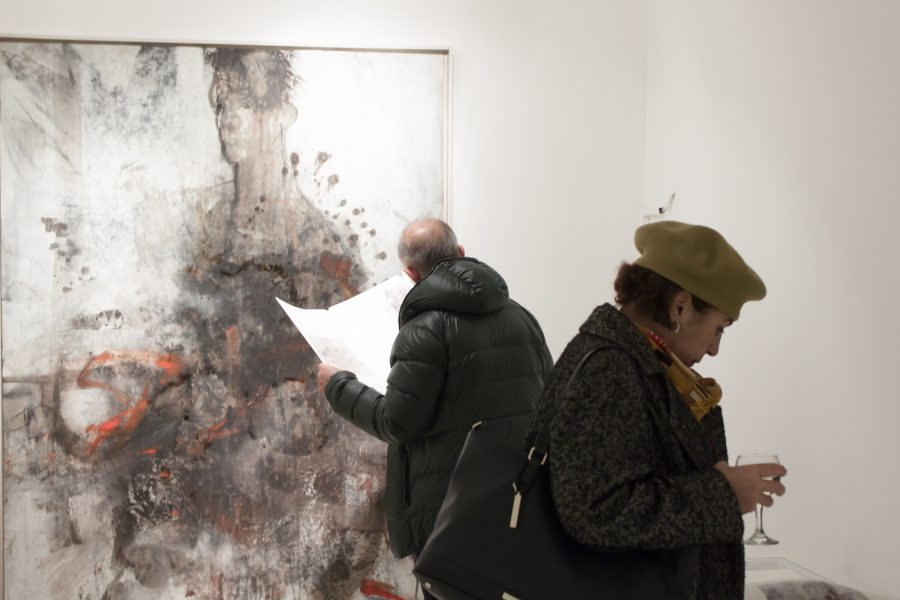 M.G. : While revolving around some imaginary places where the realities hide, I feel a sharp violence in your paintings. In your paintings and your writings there is an attractive harmony of the oppositions and dilemmas. In this exhibition there is a dominancy of 'white' giving the feelings of brightness and freshness. How does this creation of contrast take place in white?
A.K. : We are passing through an era where 'oppositions and dilemmas' left from past and present, gets harder to express in freedom. "Violence" and scream are two visual genres sheltering its mystery in deep down of me and which could come out from darkness where artists may hide themselves. In time, having no purity, I live inside the silence of a scream. I have reached to an ephemeral 'SPOT' in which all my interested, grasped, questioned and if necessary tamed efforts, come to the point where the fresh and bright forms and the hide of the tension within white, started to emerge in my own way.

M.G. : How do you think that growing in difference of our environment and artificial anarchism of today affect art and artists? Do you think that adapting oneself to the art market's demands hold the artists back from reacting and silencing them?

A.K. : In difference and artificial anarchism is not a loose end that is only valid for art and artists. It is a dark slot winding up the whole society. Indeed, the opponent side of art is distant from making people shake and get curious without hesitating to make them like and enjoy. When contemporary art's embracing voice of the day turns into a scream, that slot still holds the hope of unwinding and enlightening. When the artist become to be the form lover only, and enter a life distant from thought and wisdom in short the whole market turn into an artificial artist community nurturing the market demands and cheapness; in inevitably rises the'indifference' level into a threatening point.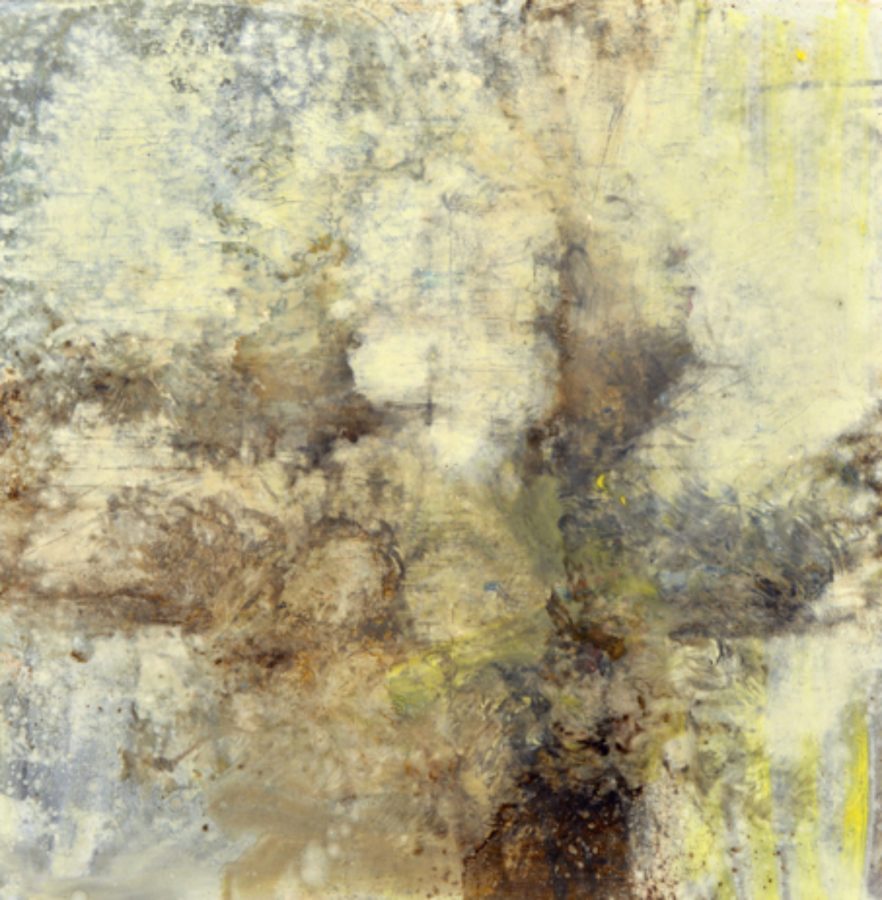 For more information; https://galerisiyahbeyaz.com/tr/gecmis/galeri-siyah-beyaz/2016-2017/savrulan-sessizlik