In the new season Viable begins with a solo show Fluidity Unwrapped by Berlin based artist Antonia Breme. The exhibition is curated by Melis Golar and brings together the latest outcomes that have been held by the artists to date.
Working and thinking about the elements of showcase design over sculptural aspects and abstracting through new forms, Antonia Breme seeps this time to the vitrine of Yaya at Viable. The artist reinterprets the desire of consumption through a mundane and ordinary action while referring to the passage being a shopping spot and the physicality of its vitrines. Breme blends the eye-catching, assertive and often unreal world of the vitrines which awakens this desire at the highest levels, in her distinctive way on sculptural elements such as material, texture, mass and shadow. The movements of empty wrapping papers on the display offer a soothing, sensual and naive view, despite the fast and aggressive nature of consumption.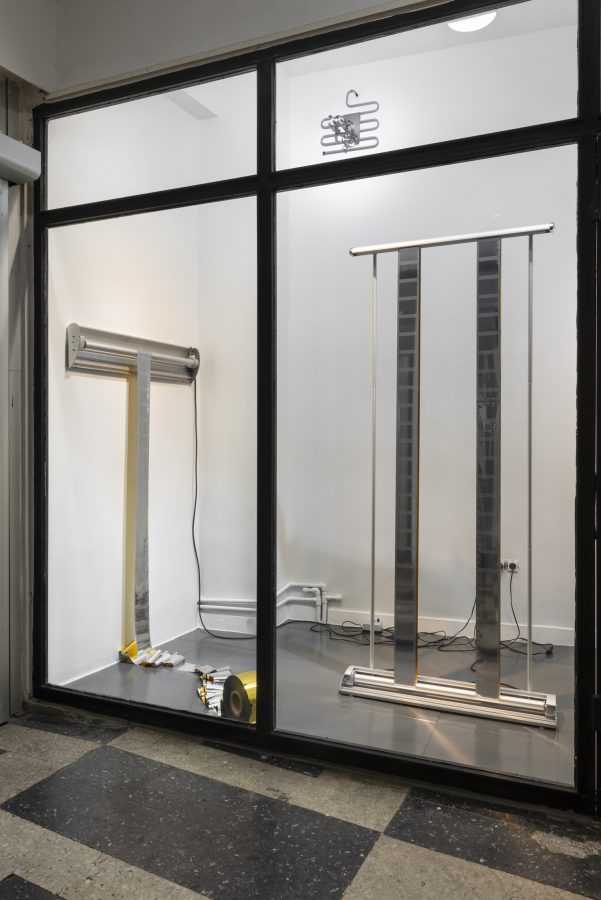 Fluidity Unwrapped offers an experience that will activate the infinitive, fluid, sensory and emotional tendencies that the commercial world seeks to reach within its own defined and rigid boundaries, this time in an unusual way. Supported by Goethe Institute, the exhibition is being held at Yaya in İttihad and Sigortalar Passage between 21 September and 4 November, 2023.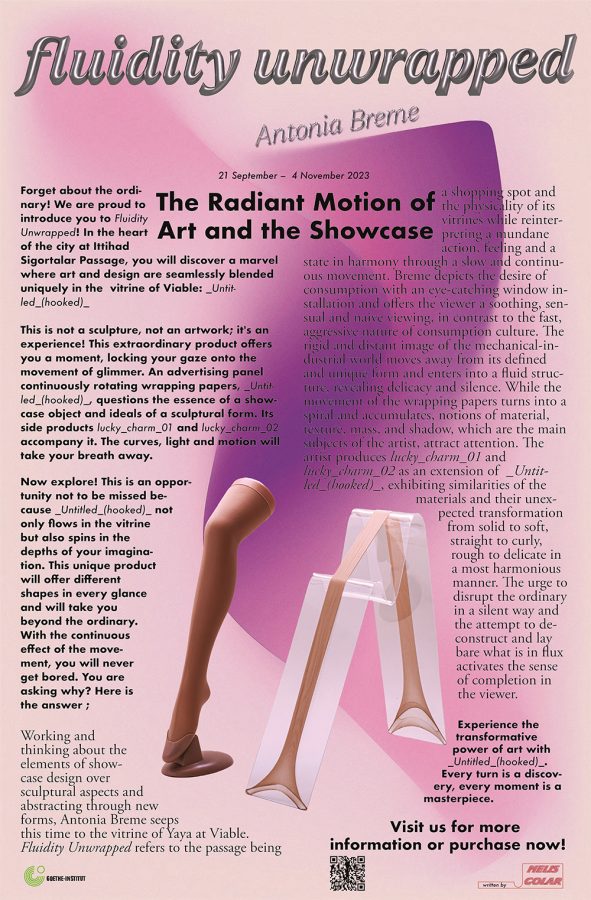 You can write to melisgolar@gmail.com for more information.
Antonia Breme (*1985 in Berlin) studied Fine Arts at the Gerrit Rietveld Academie, Amsterdam, followed by her Master studies at the Institute for Art in Context, University of the Arts, Berlin. Within her sculptural work, Breme explores the tension between artistic quality and commercial aspects of window dressing, particularly seeking to illuminate the mutual ground of these two distinct fields, desire and emotion.With great focus on detail, her sculptures and installations reveal the incisive and often brittle materiality behind the illusionismof window displays.
Her work has been shown internationally in group- and solo exhibitions, such asin 22 women artists (Stations, Berlin), of allure and vanity (New Toni, Berlin), I'M ON FIRE (Spoiler, Berlin), Stretches (Pocke, Tokyo), DisOrder Residency (RaumStation, Zürich), Planting Spatials – Means of Construction (Galerie Bart, Amsterdam), The research and destroy department of black mountain college (W139, Amsterdam), as part of Ikametgah Kadıköy (Barış Manço Cultural Center, Istanbul). In 2022, her artist book Shop Window Shopping – which reflects on her work and its context – was published by New Toni Press, Berlin. Antonia Breme lives and works in Berlin.
Exhibition credit: Courtesy of Antonia Breme and Viable, Fluidity Unwrapped, Viable, Yaya, Istanbul, 2023
Supported by: Goethe Institute
Photo Credit: Zeynep Fırat